Live subscribers - real money and vice versa. When there are no million-dollar budgets, some go to extreme lengths to collect from hundreds of thousands to several million subscribers in a matter of days.
Where to get a lot of traffic if there are no million dollar budgets?
Everyone asks about the "secret of success" of the popularity of top bloggers, but if there was one, then paid promotion methods would only remain lazy. But there are extreme ways to get subscribers, which can bring tens and hundreds of thousands of subscribers in a short time, but not everyone can decide on. These methods are best illustrated by examples. So, let's begin.
By the age of 30 I want enough money to last a lifetime
Kinsey Wolanski until June 2019 was not the most famous model - she was more known as a travel blogger from Los Angeles. An American of Polish origin has always dreamed of becoming rich, and 300 thousand subscribers to her Instagram page could not secure her a place among the rich. What was needed was an explosive growth in the number of subscribers and recognition of a personal brand.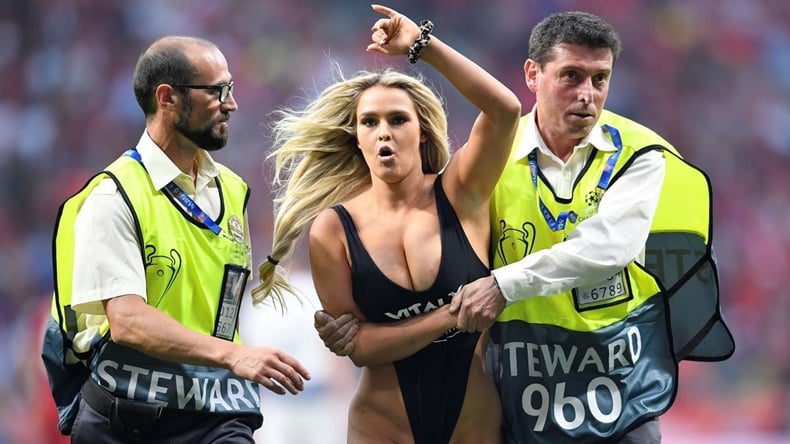 Then the girl, with the help of her boyfriend Vitaly Zdorovetsky, came up with a bold plan that was supposed to achieve two goals at once: increase the number of subscribers to her page and attract traffic to her boyfriend's website.
On June 1, 2019, the Champions League final took place, where the teams Liverpool and Tottenham played. During the height of the game in the first half, the girl ran onto the field in a swimsuit with the inscription Vitaly Uncensored (adult prank site).
Kinsey was stopped on the field, but even a few seconds in the spotlight of an audience of millions led to an effect that she herself did not expect. Simply put, she snatched some of the football traffic.
In a few hours, more than 2 million people subscribed to her page, then the media took up the initiative, which trumpeted the news and the name of the girl.
As a result, today, after a few months, the number of its subscribers is already 3.2 million.
Of course, there was a scandal, Kinsky's page was hacked and the Instagram administration blocked it. However, after a few days, her account was returned to her and the girl became even more popular. Her boyfriend's website, whose name was emblazoned on her swimsuit, also fell apart - traffic grew at least 15 times in a couple of days and several million people visited it in a month.
Kinsey herself says: "After I was released, the number of subscribers increased from 300 thousand to more than two million. You won't be able to buy such advertising" and "Suddenly I became famous all over the world, I was inundated with job offers." Result: the personal brand is pumped up and there is a traffic of several million uniques.
Banksy and the Balloon Girl
Although Banksy is one of the most notorious personalities in contemporary art, many people learned about him in October 2018. The mysterious artist, whose real name no one knows, has sinned with outrageousness before, but his latest plan produced the effect of an exploding bomb. On October 6, 2018, after selling his painting Girl with a Balloon at Sotheby's, it self-destructed in front of astonished auction participants.
As it turned out, a shredder was built into the frame of the picture, which cut the canvas into small strips. Not only did the buyer not refuse the painting, Banksy's popularity skyrocketed.
A video showing how he made a painting with a built-in shredder and how it self-destructed at an auction has garnered over 15 million views, 2.3 million likes and 96,000 comments. Audience engagement and subscriber count skyrocketed.
Banksy has been talked about all over the world.
Angelina and skyscrapers
Muscovite Angelina Nikolaou became known to the whole world in August 2016, when all foreign and domestic media vying began to write about her. Rufer guys did not surprise anyone, but the girl, posing for the camera on the edge of the abyss, attracted the attention of journalists, which she expected - by this time she had carried out all the actions with Ivan Kuznetsov, who had experience in communicating with advertising agencies and journalists.
Be that as it may, until 2016 she was a little-known Instagram user, who overnight entered the list of popular bloggers.
The girl went to this purposefully - from the second year she trained on Moscow skyscrapers, and in the summer of 2016 she and a friend flew to China and filmed a series of photographs and videos on the highest skyscrapers in Hong Kong, Shanghai and Tianjin. After that, Angelina not only increased the number of subscribers to half a million, but also began to receive orders and offers.
Since then, her popularity has not fallen, and from time to time she appears on the pages of various publications. Over the past month alone, about 50 thousand users have subscribed to her page and the total number of Angelina's subscribers has exceeded 623 thousand.
Outcome
Legal and safe methods show a smooth increase in results and dividends from working on your page grow gradually, while risky and sometimes not quite legal methods can bring instant and dizzying growth. The same law works as in the case of money.